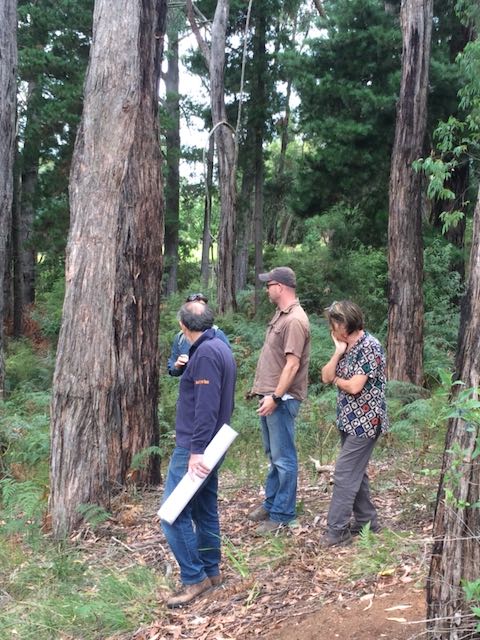 The Red Hill South Biolink Plan was completed in January 2018. It is available on this website.
The plan has been stewarded by Red Hill South Landcare which has been very successful in implementing the works outlined in the plan, including numerous successful grant applications and acquittals and is, as at June 2023, adding new biolink properties to the plan.
Red Hill South biolink properties (shaded red on the map below) roughly follow the northern tributary of Waterholes Creek, which flows generally south east, from its origin near Point Leo Rd (opposite Aloha Rd). At about the midpoint of the tributary the biolink extends southwards near the upper reach of Waterholes Creek.
The biolink properties include a large proportion of one of the most significant patches of private-land remnant native vegetation in Red Hill South. Being on private land this patch is potentially vulnerable to fragmentation and weed invasion, depending on management actions.
The Waterholes Creek tributary runs through 10 of the 14 properties. The plan includes a program that will make significant inroads into bringing areas that are serious sources of weed infestation (in particular Karamu and Pittosporum) under control, with benefits to the biolink properties downstream.
In the mid section of the biolink are three adjacent properties with high-quality remnant bushland with intact has canopy, mid and under-storey. The landholders on these properties have a history of working together to tackle weed control and are passionate about the environmental values of their properties.
On the southern edge of the biolink remnant bush on a biolink property is connective with the southern tributary of Waterholes creek, providing a unique opportunity to link the biolink to the vegetated creekline, thus expanding the biolink.
In September 2017 Red Hill South Landcare was awarded a Victorian state government Biodiversity On-ground Action grant to undertake weed control works on 3 Red Hill South biolink properties, and install nest boxes for powerful owls on 2 biolink properties. Grant activities also include monitoring of feral animals with fauna cameras and community education events regarding fox and rabbit control.