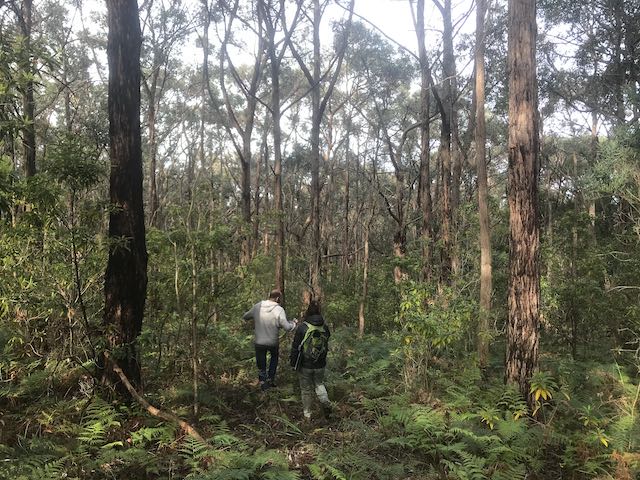 Merricks Coolart Biolink plan was completed in September 2021 and is available on this website.
The plan is being stewarded by Merricks Coolart Catchment Landcare.
Properties in the plan are clustered around Buckleys Reserve, 32 ha of bushland managed by Parks Victoria and open to the public with walking tracks running through it.
Merricks Coolart Catchment Landcare holds regular working bees in Buckley's Reserve, controlling Blackberry, Pittosporum and other weeds.This plan includes a program that will make significant inroads into bringing areas that are serious sources of weed infestation, particularly Blackberry and Pittosporum) under control.
In the mid section of the biolink are three adjacent properties with high quality remnant bushland. One particularly large property has a 12.5 ha of native bushland and two creek tributaries running through it.
Ecological vegetation classes on Merricks Coolart Biolink properties include:
023 Herb-rich Foothill Forest (Peninsula and Bioregional status: vulnerable)
191 Riparian Scrub (Bioregional status: vulnerable)
053 Swamp Scrub (Peninsula and Bioregional status: endangered)
937 Swampy Woodland (Peninsula and Bioregional status: endangered)
Threatened species* within 10km of Buckley's Reserve (Atlas of Living Australia – ALA) include:
Grey headed-flying fox (Pteropus poliocephalus) – Vulnerable, Victoria [ALA, 2019]
Swamp skink (Egernia coventryi) – Endangered, Victoria [ALA 2021]
Swift parrot (Lathamus discolor) – Critically Endangered, Victoria [ALA 2019]
Eastern curlew (Numenius madagascariensis) – Critically Endangered, Victoria [ALA 2020]
*Flora and Fauna Guarantee Act 1988 (Threatened list October 2021)