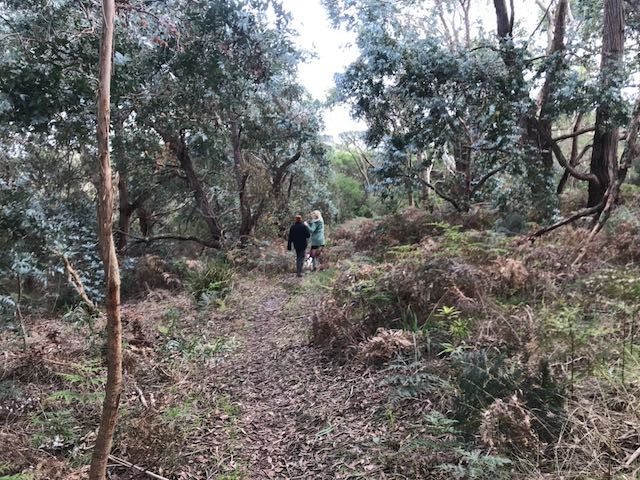 The Devilbend Hastings Biolink Plan was completed in April 2023 and is available on this website.
It is now being stewarded by Balcombe Moorooduc Landcare Group.
The 9 Devilbend Hastings Biolink properties are in three areas to the west (3 properties), north (4 properties) and east (two properties) of Devilbend Natural Features Reserve (Devilbend), a 1,0005 ha reserve that includes the largest inland water body on the Mornington Peninsula.
Properties to the west of Devilbend include:
a property adjacent to Woods Reserve, 3 ha of which is good quality indigenous bushland which is surrounded to the north and west by Woods Reserve

two large neighbouring properties on Tuerong Rd with bushland covering over 30 ha
To the north are:
two neighbouring properties on Graydens Rd opposite the public entrance to Devilbend, with 2.78 ha bushland for which weed-control works are planned. An additional 2.28 ha is also slated for revegetation under the plan
Devilbend Golf Course with an area of 4.3 ha of native bush
Moorooduc Saddle Club on the southwestern edge of Devilbend Golf Course, with a native bush area of approximately 9 ha.
In the east of the Devilbend Hastings Landcare area, two neighbouring Devilbend Hastings Biolink properties, also on Graydens Rd, contain 14.6 ha of bush. An additional 1 ha is slated for revegetation under this plan to complement the weeding works planned.
Weed control and revegetation planned on the 9 biolink properties will improve the health of the streams in the Devilbend Hastings Landcare area, particularly the downstream health of Devilbend and Kings Creeks, as well as the health of Devilbend Reserve.
Ecological vegetation classes on Devilbend Hastings Biolink properties include:
083 Swampy Riparian Woodland (Bioregional status: endangered)
016 Lowland Forest (Peninsula and Bioregional status: vulnerable)
053 Swamp Scrub (Peninsula and Bioregional status: endangered)

937 Swampy Woodland (Peninsula and Bioregional status:

endangered

)
Australasian Bittern (Botaurus poiciloptilus): endangered, 

Environment Protection Biodiversity and Conservation Act 1999, Cwlth (EPBC); 

critically endangered

Flora and Fauna Guarantee Act 1988, Vic (FFG)

Far Eastern Curlew (Numenius (Numenius) Madagascariensis): critically endangered EPBC and FFG
Southern Brown Bandicoot (Isoodon Obesulus): endangered EPBC and FFG
Southern Toadlet (Pseudophryne semimarmorata): endangered FFG
*Source: Atlas of Living Australia (B