Devilbend biolink (shaded pink in the map below) in the Tuerong-Mooroduc-Mt Martha area is designed to connect Balcombe Reserve at Balcombe Estuary Mt Martha to Woods Reserve and adjoining Devilbend Natural Features Reserve, taking in The Briars Park.
Devilbend biolink was the pilot biolink for the LMPL project and contains only 5 properties. A more extensive Devilbend biolink plan is scheduled to be developed later in the LMPL project.
What this map shows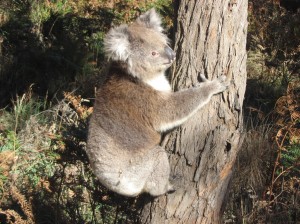 This map shows all the plans developed so far, including Devilbend biolink.
In 2014 a Devilbend Biolink Plan was finalised for this biolink, detailing works that could be undertaken on four private properties in the area to achieve connectivity. The plan also considers existing and planned works on the statutory and government properties in the biolink area (i.e. The Briars and South East Water's Mt Martha Sewage Treatment Plant).
Devilbend Landcare is working with the private landholders to use the Devilbend Biolink Plan to apply for both government and philanthropic funds to undertake the on-ground works detailed in the plan.
What important wildlife habitat and plant communities is this project aiming to connect and protect?
Balcombe Reserve, Mt Martha begins at Balcombe Estuary on the Port Phillip side of the Peninsula, and follows Balcombe Creek, covering approximately 44 hectares between the Port Phillip coastline and Nepean Highway. Balcombe Reserve is a haven for local flora and fauna. Plants range from native orchids, tiny ground hugging herbs and flowering shrubs, to swamp paperbarks, she-oaks and stately manna gums. Wetland birds that graze and roost about the estuary include egrets, spoonbills, cormorants, and herons. Lizards, skinks and frogs find shelter among fallen logs and low plants. For more information on Balcombe Reserve, visit the website of the Balcombe Estuary Reserves Group.
The Briars Park, Mt Martha on Nepean Highway includes 98 hectares of wildlife reserve and has significant sections of habitat quality bushland along Balcombe Creek.
Devilbend Natural Features Reserve, Tuerong, covers 1005 hectares, includes the largest (250 ha) inland water body on the Mornington Peninsula, and encompasses 422 hectares of native vegetation. The Reserve provides valuable habitat for waterbirds, and many native animals. For more information on Devilbend Reserve, see Parks Victoria's Devilbend website.
Woods Reserve, Tuerong, a small reserve adjoining Devilbend Reserve, is home to a high quality native grass community and is known for its abundant bird life.
Conservation groups active in the area of the Western Linkage  are the Balcombe Estuary Reserves Group, Balcombe and Mooroduc Landcare Group, and Devilbend Landcare Group.